Thursday 19 April 2018 · 7.30pm
Maggini Quartet
Grenville Hancox · clarinet
Haydn · Quartet in B-flat major, Op. 55, No. 3
Vaughan Williams · Quartet No. 1 in G minor
Mozart · Quintet in A major for Clarinet & Strings, K. 581
N.B. This concert will be given at St Gregory's Centre for Music.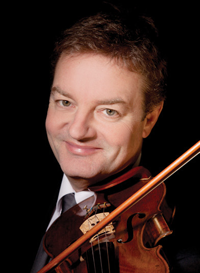 Julian Leaper of the Maggini Quartet
Formed in 1988, the Maggini Quartet is one of the finest British string quartets. Its acclaimed recordings have won international awards including Gramophone Chamber Music Award of the Year, Diapason d'Or of the Year and a Cannes Classical Award, and have twice been nominated for Grammy Awards. The Quartet's most recent project has been recording the complete Mendelssohn quartet cycle for Meridian Records.
The Maggini Quartet's commitment to new music has led to important commissions including works by James MacMillan, Robert Simpson, Eleanor Alberga and Roxanna Panufnik. Their unique collaboration with Sir Peter Maxwell Davies, performing and recording his ten 'Naxos Quartets', was hailed as "a 21st century landmark".
The Maggini Quartet appears frequently in prestigious concert series at home and abroad and makes regular media broadcasts. Recent international visits have included Dubai, Switzerland, the Netherlands, Germany and France. They also have an annual summer tour in Norway and will be returning to Denmark for a major tour in autumn 2017.
The Magginis are renowned for their interpretations of British Repertoire and The Glory of the English String Quartet continues to be an important ongoing initiative, drawing upon the wonderful repertoire which the Quartet is committed to bringing to a worldwide audience.
In addition to their concert activity, the members of the Quartet have an international reputation as chamber music coaches. They hold several UK residencies and have worked at the UK's senior music institutions.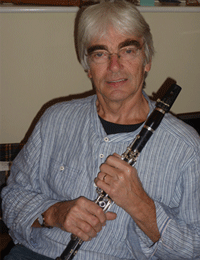 Grenville Hancox - clarinet
Grenville Hancox is well known for his work as an educationalist, performer and conductor, together with his groundbreaking research with Stephen Clift on the benefits of singing for health. Until March 2012 he was head of department and director of music at Canterbury Christ Church University having been made the first professor of music in Kent in 2000. Co-founding the Sidney De Haan Research Centre for Arts and Health (2003) and forging a very special relationship between the university and the former master of the Queens Music, Sir Peter Maxwell Davies are two examples of many achievements whilst in post.  He has a successful record of fund raising for research projects and for ensuring music is at the heart of any thriving healthy community.
As a Trustee of the Creative Foundation in Folkestone he has championed engagement in the arts as a means of social regeneration and since leaving Canterbury Christ Church University founded the Canterbury Cantata Trust to emphasising the importance of group singing for all in the community and to encourage younger people to be involved with their communities through practical music activities. In  2010 he established Skylarks a singing group for people with Parkinson's with groups in both Canterbury and London. 

Grenville has directed many orchestral and choral performances in the UK and Europe including some of the most challenging works in the choral repertoire and as a clarinet player has performed extensively throughout the UK, in Europe and the USA appearing amongst others with the Sacconi and Maggini String Quartets and the London Mozart Players.
He was awarded the MBE for services to Music in 2005 and presented with a Civic Award by Canterbury City Council for services to the community through music making in 2006.