Sunday 17 February 2019 · 3.00pm
Haydn · Quartet in B minor, Op. 33, No. 1
Stephen Dodgson · Piano Quintet in C
Puccini · Chrisantemi
Schumann · Piano Quintet in E-flat major, Op. 44
Tippett Quartet
Emma Abbate · piano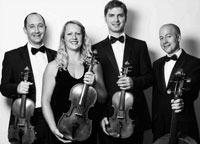 Tippett Quartet
The Tippett Quartet regularly appear at Kings Place, Purcell Room, Wigmore Hall, Queen Elizabeth Hall and Bridgewater Hall and frequently perform on BBC Radio 3. They have performed at the BBC Proms and toured Europe, Canada and Mexico. Their broad and diverse repertoire highlights the Tippett Quartet's unique versatility. Their impressive catalogue of recordings have been released on Naxos, EMI Classics, Signum, Decca, Classic FM, SOMM Records, Vivat, Guild, Real World, Dutton Epoch and Tocatta Classics with universal critical acclaim.
The Tippett Quartet recently worked on a groundbreaking reimagining of Beethoven's iconic Op. 135 with composer/soundscape artist Matthew Herbert for a BBC Radio 3 broadcast, which was also used as the BBC TV ident. They have also given numerous world and UK premieres including works by John Adams, Howard Goodall and Stephen Dodgson.
In 2013 the Tippett Quartet rediscovered Gustav Holst's Fantasy on British Folk Songs which, with the help of the eminent musicologist Roderick Swanston, they were able to complete and give a world premiere on BBC Radio 3. They have also worked with Peter Maxwell-Davies for a performance of his 9th Quartet at the South Bank, with Anthony Payne on his Quartet No.1 for a live BBC broadcast from Spitalfields Festival, and Hugh Wood on his String Quartet No.3 at the Presteigne Festival.
2016 saw the quartet commission pianist and composer Alissa Firsova to write her 'Tennyson Fantasia' , a project supported by The Ralph Vaughan Williams Trust, Ambache Trust and Nicholas Boas Trust. It was premiered at Kings Place with the actor Finbar Lynch reciting Tennyson's poems and was subsequently performed on BBC Radio 3 and at various concert venues across the UK. They also appeared on the Decca CD release of Damian Montagu's music, in which they accompanied the actor Hugh Bonneville narrating his own poetry. A live premiere of both poetry and music was premiered at Chichester's Minerva Theatre.
In 2011 they celebrated the anniversary of the iconic film composer Bernard Herrmann with a series of concerts and radio broadcasts alongside quartets by Miklos Rozsa and Eric Korngold. They also commissioned a unique string quartet arrangement of the "Psycho" film score, which Norma Herrmann, Bernard's widow, granted them special permission to make and perform. She also accompanied them on several occasions to give pre-concert talks on Herrmann's life and music. In 2016, the Tippett Quartet continued their link with film composers when they gave the premiere of Alberto Iglesias' string quartet No.1 in Madrid.
In 2014 the Tippett Quartet started a collaboration with some of the UK's finest Jazz musicians with the launch of their 'Close To You' project featuring Matt Ford – a tribute to the album that Frank Sinatra made with the Hollywood String Quartet. They are now continuing this collaboration featuring singer and broadcaster Claire Martin OBE. Both projects have lead to performances throughout the UK, a Radio 3 broadcast and concerts at Snape Proms, Ronnie Scott's and Pizza Express, Dean Street.
Alongside a busy touring schedule, the Tippett Quartet pursues a keen interest in educational work with both schools and universities. They were Ensemble in Residence at Sidney Sussex College, Cambridge University for 2012-13 and since September 2015 they began two exciting new residencies at Royal Holloway University, London and St Edmund's School, Canterbury. They are also featured in the new Boosey & Hawkes publication "4 Strings" edited and compiled by Liz Partridge.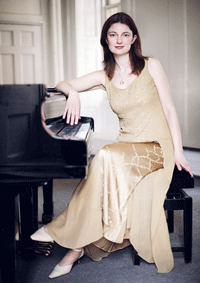 Emma Abate - piano
The Neapolitan pianist Emma Abbate enjoys a demanding career as a piano accompanist and chamber musician, working with some of the finest singers and instrumentalists of her generation.She has performed in duo recitals for international festivals and concert societies in Salzburg, Lisbon, Naples, Ischia, and Koscierzyna, and at many prestigious UK venues such as the Wigmore Hall, Southbank Centre, Royal Opera House, St John's Smith Square, St George's, Bristol and at the Aldeburgh Festival, in addition to broadcasts on BBC Radio 3.
Described as "an amazingly talented pianist" by the leading Italian magazine Musica, Emma is releasing a series of recordings devoted to 20th century Italian vocal chamber music, the latest of which is the world-première Sera d'inverno: Songs by Ildebrando Pizzetti with the critically acclaimed mezzo-soprano Hanna Hipp for Resonus Classics. She has previously recorded the world-première disc of Shakespeare Sonnets by Mario Castelnuovo-Tedesco with the BBC New Generation Artist Ashley Riches also for Resonus Classics, and L'Infinito: a musical journey through 20th century Italian songs with the mezzo-soprano Kamelia Kader, including works by Respighi, Casella, Alfano and Malipiero.
Emma cultivates an active interest in historical keyboards, and has performed and recorded on a range of original instruments at Finchcocks and Hatchlands. Her latest release is the second volume of Mozart's complete piano duets on period instruments with Julian Perkins for Resonus Classics. This album is the first to be recorded on the newly-formed  Richard Burnett Heritage Collection of Early Keyboard Instruments. Their first volume was described by Early Music Review as "exemplary". 
A keen advocate of contemporary music, Emma has also released two discs devoted to works by Stephen Dodgson for Toccata Classics: world-première recordings of his cello and piano music with Evva Mizerska, and his piano quintets with the Tippett Quartet. The quintets disc has just been named a Musicweb International Recording Of The Year 2017.
Emma's discography also includes the world-première recording of works for cello and piano by the late-Romantic English composer Algernon Ashton with Evva Mizerska for Toccata Classics. The disc has been highly praised by critics and rated among the 'Best Finds of 2012' by Classical Lost and Found. Their previous CD – the world-première recording of complete works for cello and piano by the contemporary Polish composer Krzysztof Meyer – was placed by William Zagorski of the American magazine Fanfarein his "Top 5" of all the CDs published worldwide in 2009.
Based in London, Emma is a professor at the Guildhall School of Music & Drama and a staff coach at the Royal Opera House, Covent Garden. Following her graduation from the S. Pietro a Majella Conservatoire in Naples and an Advanced Diploma from the S. Cecilia Conservatoire in Rome, Emma studied in London with Yonty Solomon. She completed her studies with Geoffrey Pratley as a scholar at the Royal Academy of Music, from where she graduated with distinction. She was also awarded an Italian Literature and Culture degree cum laude from the Federico II University in Naples.