Sunday 21 January 2018 · 3.00pm
Bach · Sonata for Violin & Piano No. 4 in C minor, BWV 1017
Ysaÿe · Sonata for Solo Violin in G minor, Op. 27, No. 1
Beethoven · Sonata for Violin & Piano in E-flat major, Op. 12, No. 3
Stravinsky · Divertimento from 'The Fairy's Kiss'
Alexandra Lomeiko · violin
Antonina Suhanova · piano

Alexandra Lomeiko - violin
Alexandra Lomeiko was born in 1991 into a family of musicians. Based in London, United Kingdom, Alexandra has established herself as one of the most talented and versatile musicians her age, winning prizes in various competitions, founding and directing the unconducted ensemble Silk Street Sinfonia, being broadcast on BBC Radio 3 on numerous occasions and performing extensively as a soloist, chamber and orchestral musician both in the U.K and abroad.
Alexandra began violin lessons at the age of 5 in Christchurch, New Zealand. During the following years she received many awards and prizes around New Zealand including the Most Promising Award at the Young Performer of the Year competition, the Ernest Empson Scholarship and the Dame Malvina Major Scholarship. She won 2nd place at the Sentinel Performers Competition (2005) and 3rd place at the National Concerto Competition (2008). In 2005, Alexandra was the youngest performer at the Pablo Casals Festival which led to her being invited to join the Russian Virtuosi of Europe Ensemble with whom she regularly collaborates to this day.
2006 brought Alexandra to London where she was awarded a full scholarship to study at the Purcell School of Music in London with Evgeny Grach. During her time in London, she also performed as a soloist and chamber musician in many prestigious venues around London including, Royal Festival Hall, Queen Elizabeth Hall, Buckingham Palace, Wigmore Hall, Barbican Hall, Cadogan Hall, LSO St. Lukes, Princess Alexandra Hall and Watford Colosseum. Alexandra has also performed internationally in many countries, including Brazil, Uruguay, Chile, Argentina, France, Germany, Switzerland, Spain, Russia, Israel, Poland and Turkey.
A laureate of numerous competitions, Alex has won the Purcell Concerto Competition (2008), the Orpheus Chamber Music Competition (2007) and was awarded the "Best String Player Award" at the Gisborne International Music Competition in New Zealand (2012), Province of Terni Soloist Award from Associazione Mozart Italia (2014) , the U.K's Kenneth Loveland Gift Award (2016) and the Development Prize at the Michael Hill International Violin Competition (2017). Alexandra is also a very avid chamber musician and regularly performs in various ensembles across the U.K and abroad. As an orchestral musician Alexandra has worked with the Oxford Philomusica, the London Symphony Orchestra with whom she collaborates through her placement on the LSO String Scheme and the BBC Symphony Orchestra where she is on the Student Pathway Scheme.
Alexandra founded the self-directed string orchestra known as Silk Street Sinfonia of which she is Concertmaster and Artistic Director. The ensemble is scheduled for many upcoming performances throughout Europe and released it's debut CD in December, 2014. In 2010, she was awarded "The Henry Weinrebe Award" scholarship by the Guildhall School of Music and Drama (London) studied there with Professor David Takeno. Following her graduation in 2014, she commenced her postgraduate studies at The Royal College of Music with Radu Blidar and Yuri Zhislin. She was an RCM Lark Scholar supported by a Leverhulme Arts Scholarship and also by awards from the Countess of Munster Trust, the Martin Music Scholarship Fund, the Drake Calleja Foundation and the Help Musicians UK Foundation. ​
An active participant in numerous masterclasses, most recently she performed as a soloist in the RCM Brahms Violin Concerto Masterclass with Maxim Vengerov. 2016 saw Alexandra perform in the Great Mountain Music Festival (South Korea) working with Radu Blidar and Mihaela Martin and in the International Holland Music Sessions working with Krzysztof Wegrzyn. Previously she has performed at the 2015 IMS Prussia Cove Masterclasses with Ivry Gitlis and Philippe Graffin, the Kronberg Academy Violin Masterclasses with Pavel Vernikov and the Encuentro Santander Festival Masterclasses with Zakhar Bron and Mihaela Martin. In previous years have seen her work with other notable artists such as Yuri Volgin, Charles Castleman, Robert Rozek, Boris Brovtsyn, Natalia Prishepenko, the Belcea Quartet, the Takacs Quartet and the Endellion Quartet amongst many others. Alexandra plays on a violin made by Carlo Tononi, Cremona 1687, and gratefully acknowledges its loan from the Royal College of Music, London.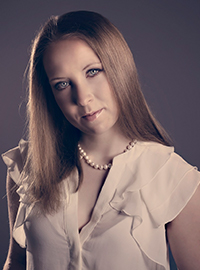 Antonina Suhanova - piano
Since 2000, the Latvian pianist Antonina Suhanova (1991) has been praised at numerous national and international piano competitions in France, Spain, Italy, Slovakia, Russia and Estonia. She studied with Gunta Boza and Professor Juris Kalnciems at the Jazeps Vitols Latvian Academy of Music before moving to London in 2012 where she commenced her studies at the Guildhall School of Music and Drama under the tutelage of distinguished British pianist Ronan O'Hora. Since September 2015 she is continuing her postgraduate studies at the Guildhall and has been awarded a full scholarship sponsored by the Edith Vogel Bursary and Drake Calleja Trust. In 2016 has been awarded Help Musicians UK Postgraduate Award.
Antonina has appeared as a soloist with Latvian orchestras led by Atvars Lakstigala, Andris Vecumnieks and Andris Nelsons. She worked with the Tallinn Chamber Orchestra, London's Silk Street Sinfonia and the "Moscow Virtuosi" Orchestra led by the legendary violinist and conductor Vladimir Spivakov. Since 2011 is an active chamber musician, specializing in violin and piano duo repertoire with her duo partner the New Zealand violinist Alexandra Lomeiko. She has participated in masterclasses of numerous world-renowned pianists including Dominique Merlet, Idil Biret, Vladimir Ashkenazy, Dmitri Bashkirov and Boris Berman. In 2015, Antonina gave solo recitals and performances with the orchestra as part of the City of London Festival, the International Piano Stars Festival in Latvia, the International Holland Music Sessions in the Netherlands, the Autumn Chamber Music Festival in Riga and also performed a solo recital in London's Milton Court Concert Hall. In May 2016 made her debut performance with the Guildhall Symphony Orchestra and conductor Adrian Leaper at the Barbican Hall as finalist of the Guildhall School of Music and Drama the most prestigious prize The Gold Medal.