Thursday 15 March 2018 · 7.30pm
Domenico Scarlatti - Sonata in A major, K.208
Vaclav Trojan - The Destroyed Cathedral
Victor Vlasov - Archipelago Gulag
Yevgeny Derbenko - Prelude and Toccata
Franck Angelis - Intérieur
Vladislav Zolotaryov - Sonata no.3

Arvo Part - Pari Intervallo
Sofia Gubaidulina - De Profundis
Alessandro Marcello/J.S. Bach - oboe concerto in D minor BWV 974 "Adagio"
Viatcheslav Semionov - Brahmsiana
Krzysztof Komeda - Lullaby
Astor Piazzolla - Libertango
Bartosz Glowacki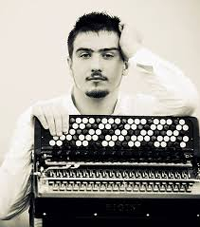 Bartosz Glowacki · accordion
Bartosz Glowacki is one of the leading lights of a new generation of accordionists. His artistic goal is to improve awareness of the accordion in classical music, as well as to develop a new repertoire for his instrument. 
He was born in Poland, where he has studied classical accordion with Professor Andrzej Smolik in the National Music School in Sanok. In 2015 he graduated from The Royal Academy of Music with the first class diploma and Regency Award for noticeable achievements where he continues his Master studies now. 

Bartosz won the Polish Young Musician of the Year in 2009, following which he represented Poland in the Eurovision Young Musicians Competition in Vienna. Here, he performed Mikolaj Majkusiak's "Concerto Classicco" for accordion and symphony orchestra in the grand finale with the ORF Vienna Symphony Orchestra. He is a recipient of many prizes in National, as well as International Music Competitions. He is a recipient of The Countess of Munster Musical Trust, John Hosier Special Award 2015 and Zygmunt Zaleski Foundation.
As a soloist he has performed in many prestigious concert halls, for example, The Wigmore Hall, The Royal Festival Hall, The Purcell Room, Salle Cortot, The Colston Hall, Studio SI of The Polish National Radio Station, and many others. He has premiered compositions by Luke Bedford, Richard Causton, Richard Ayres, Christopher Austin, Maciej Zimka, Marko Nikodijevic, Diana Burrell and Johannes Schöllhorn. As well as being a soloist, Bartosz is extremely active chamber musician. He is a founding member of The Deco Ensemble, described as an "exceptional ensemble of the highest caliber", with a "strong and highly individual voice". The ensemble has toured Europe extensively. Highlights from last season included sold-out performances in London, Manchester, Glasgow, Brighton, York, Bristol, Brussels, Bratislava, Strasbourg, Rome, and Poland, including appearances at Wigmore Hall, Colston Hall, Norfolk and Norwich festival. Next season's engagements include recitals at the Purcell Room, Royal Albert Hall, National Philharmonic Hall in Warsaw, Salle Cortot in Paris and are taking the ensemble as far as Azerbaijan. Deco Ensemble's debut album 'Encuentro' was released in July 2015.
During his career, he collaborated with many world famous musicians such as Nigel Kennedy, Trevor Pinnock, Rob da Bank, Atom String Quartet, Meccorre String Quartet, Dave Maric and many others. Bartosz has worked with musical institutions like The Royal Opera House, The Chroma Ensemble, The Philharmonia Orchestra, London Sinfonietta, Welsh National Opera, The City of London Sinfonia, The Royal Academy of Dramatic Arts, The Sinfonia Varsovia, ORF Symphony Orchestra and many others. With these institutions, he has performed multiple new operas and orchestral works, which feature the accordion in several different styles.

His plan for the year ahead is to release his debut CD "Out of the Depths" featuring contemporary music for accordion by composers such us Magnus Lindberg, Luciano Berio, Sofia Gubaidulina and Vladislav Zolotaryov as well as new commissions by promising British composers. Bartosz has been awarded the place in Open Space scheme 2015/2016 in Aldeburgh where he will have his residency in order to conduct innovative projects with accordion music.