Membership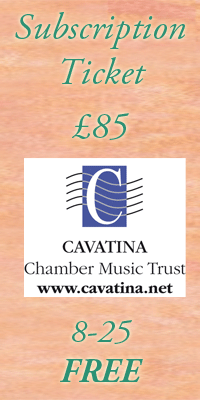 Membership of Canterbury Music Club is incredibly cheap and represents phenomenal value for money. All the artists presented are of considerable reputation, often on concert tours that include prestigious venues such as Wigmore Hall and the Southbank Centre.
Whilst a single concert ticket is £15 (bought at the door or booked online - click here), a subscription ticket is only £85 for all eight concerts in the season. This works out at only a little over £10 per concert. If you can't make one of the concerts, your subscription ticket is transferable and we warmly encourage you to pass it to a friend. (The price of subscriptions bought after the season has started will be adjusted accordingly.)
Subscription tickets also entitle members to reduced price entry to single concerts given by other local music clubs:
Whitstable Music Society
Faversham Music Club
Sittingbourne Music Society
Music at St Peter's
For those aged eight to twenty-five (inclusive) CAVATINA Chamber Music Trust will provide free tickets. (ID may be required.) For those who are students but who fall outside of this age bracket, a single concert ticket is £5.
Tickets are available on the door.
To purchase a subscription ticket, please contact the Membership Secretary, Sarah Nightingale on 01227 765906.